Charli D'Amelio's Net Worth Is Basically Exploding Every Single Month
How much money were you making at the tender age of 18? Because Charli D'Amelio is out here earning millions due to being better at TikTok choreography than the rest of us, and honestly, I am in no way okay.
Charli joined TikTok back in 2019, and she basically blew up overnight—going from less than a million followers in August 2019 to 50 million followers in April 2020…to 123.6 million in September 2021 (she's currently sitting pretty at 144.5 million). Charli also gained fame thanks to being a former member of the always dramatic TikTok Hype House, kick-starting her own reality TV show called The D'Amelio Show, and going through a pretty messy breakup with fellow TikToker Chase Hudson and his floppy middle-parted hair.
Basically, what I'm trying to say is Charli's so famous, even your parents probably know her name—and yeah, she's made a huge amount of money along the way.
Kay, but How Does She Even Make $$$$?
Two beautiful words: sponsored content. Celebrity Net Worth reports that Charli charges $100,000 (I'm truly !!!!!!!) per sponsored post—which means she has to do only 10 sponsored posts a year to make a cool million.
the making of @borndreamerbycd ⭐️ out now on my youtube channel!!
But TikTok isn't the only platform Charli is dominating. She also earns money through ad revenue on YouTube, where she has 9.53 million subscribers and counting. Like, here's a casual video of her Prada haul at Milan Fashion Week, where she was, conveniently, YouTube's guest!
On top of this, she also earns money the old-fashioned way: Super Bowl commercials. Celebrity Net Worth reports that Charli took home $1 million for her Sabra Hummus ad, which she was in for approximately two seconds:
And There's Also Her Merch
Charli has her own line of cute merch, which often gets backed up because of how much it regularly sells out.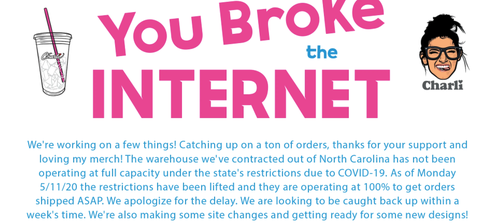 She's Also a Reality TV Star Now
Now that The D'Amelio Show is premiering on Hulu, Charli and her sister Dixie will get a cut of the check…and reality TV checks for show headliners tend to be big. The deets of their deal with Hulu aren't public, but Deadline went ahead and called the whole production the "highest-profile TV series featuring nascent TikTok stars," so yeah, it's a BFD.
Unsurprisingly, given the show's massive success, it's been renewed for a second season.
Oh, and She's Branching Out to More Traditional Acting Roles
According to Deadline, The D'Amelio Show isn't Charli's only recent payday from Hollywood. She recently made her film debut (NBD) lending her very recognizable voice to a character in an animated movie called StarDog and TurboCat.
And Then There's Her Podcast
In addition to letting fans into their lives via TikTok and their Kardashian-level Hulu reality show, Charli and her sister Dixie also cohost a " data-vars-ga-product-id="75dd77f5-2e1d-464c-ae4b-964d7b811f42″ data-vars-ga-product-price="0.00″ data-vars-ga-product-sem3-brand="" data-vars-ga-product-sem3-category="" data-vars-ga-product-sem3-id="" data-affiliate-network="" data-vars-ga-media-type="">podcast called Charli and Dixie: 2 Chix. The podcast, which launched in October 2020, gives fans a chance "to really discover who Charli and Dixie D'Amelio are as individuals, daughters, sisters, friends and stars," according to Variety.
"Excited for everyone to listen in while we cover interesting topics, share stories, tackle difficult conversations, engage with guests that we either love or completely disagree with—and of course, it's all filled with nonstop sister banter," Charli and Dixie said in a statement at the time.
Wait, Don't Forget Her Beauty Collections
In July 2020, Charli and Dixie announced a partnership with Morphe Cosmetics for the company's sub-brand, Morphe 2.
"With Morphe, we're working together to show that you are beautiful, with or without makeup," Charli told Allure at the time. "I want people to wear as little or as much as they want and feel confident."
The collab has clearly been a success because in May 2021, the sisters dropped another collection with Morphe 2—a set of five multipurpose palettes called Quad Goals.
In addition to their Morphe collections, Charli and Dixie have also collaborated with Orosa Beauty on nail polish collections, the first of which dropped in August 2020. The sisters dropped their latest Orosa collab, a limited-edition collection called Coastal Craze, in December 2021.
SoOoOOooOOoo, How High Is Charli's Net Worth?
According to Celebrity Net Worth, that would be $20 million—up from 12 million last year. That might have something to do with the fact that she earned $17-18 million in 2021 alone (keep in mind, a lot of that money goes to taxes / overhead / general life stuff). Meanwhile, Forbes puts Charli as the #1 earner on TikTok, so expect her net worth to jump even higher next year.
Source: Read Full Article