Buccaneers LB Shaquil Barrett's Daughter Dies in Pool Accident Just Days After 2nd Birthday
Tampa Bay Buccaneers send prayers to the linebacker as they confirm the 'heartbreaking' news after it's reported that the athlete's toddler daughter Arrayah drowned in the family's pool in Florida.
AceShowbiz –Shaquil Barrett is dealing with a great family tragedy. The linebacker for the Tampa Bay Buccaneers is suffering an unimaginable loss as his 2-year-old daughter Arrayah Barrett died in a pool accident, just a few days after celebrating her birthday.
According to a statement from the Tampa Police Department, officers arrived at a Tampa, Florida residence on Sunday morning, April 30 just before 9:30 A.M. ET after receiving a call that a child had fallen into a pool. The child was transported to a local hospital but could not be revived and was pronounced dead shortly after, authorities said.
It's unclear what led to the accident, but cops are saying the circumstances don't appear to be suspicious in nature. The Tampa PD said an investigation is ongoing. "It is not believed to be suspicious in nature at this time, but a purely accidental and tragic incident," they said in the statement.
Confirming the sad news, Buccaneers released a statement via social media. "Today's tragic news is heartbreaking for all members of the Buccaneers family," it read. "Our thoughts and prayers are with Shaq, Jordanna, and the entire Barrett family during this unimaginably difficult time. While no words can provide true comfort at a time such as this, we offer our support and love as they begin to process this very profound loss of their beloved Arrayah."
Many football fans offered their condolences in the comments section. "So incredibly tragic. Prayers to Shaq and family," one fan wrote on Instagram. Another commented, "Ouch. I can't imagine the pain he and his family are going through. RIP Arrayah."
A third added, "My condolences to your family my man !!! I can't imagine but sending love and light ! Rest well little princess." The Denver Broncos also sent their condolences as writing, "#BroncosCountry is with you, Shaq & the entire Barrett family."
Tom Brady, who played with Buccaneers from 2020 until his retirement last year, posted on his Instagram Story, "The Brady's love you," along with a picture of the Barrett family.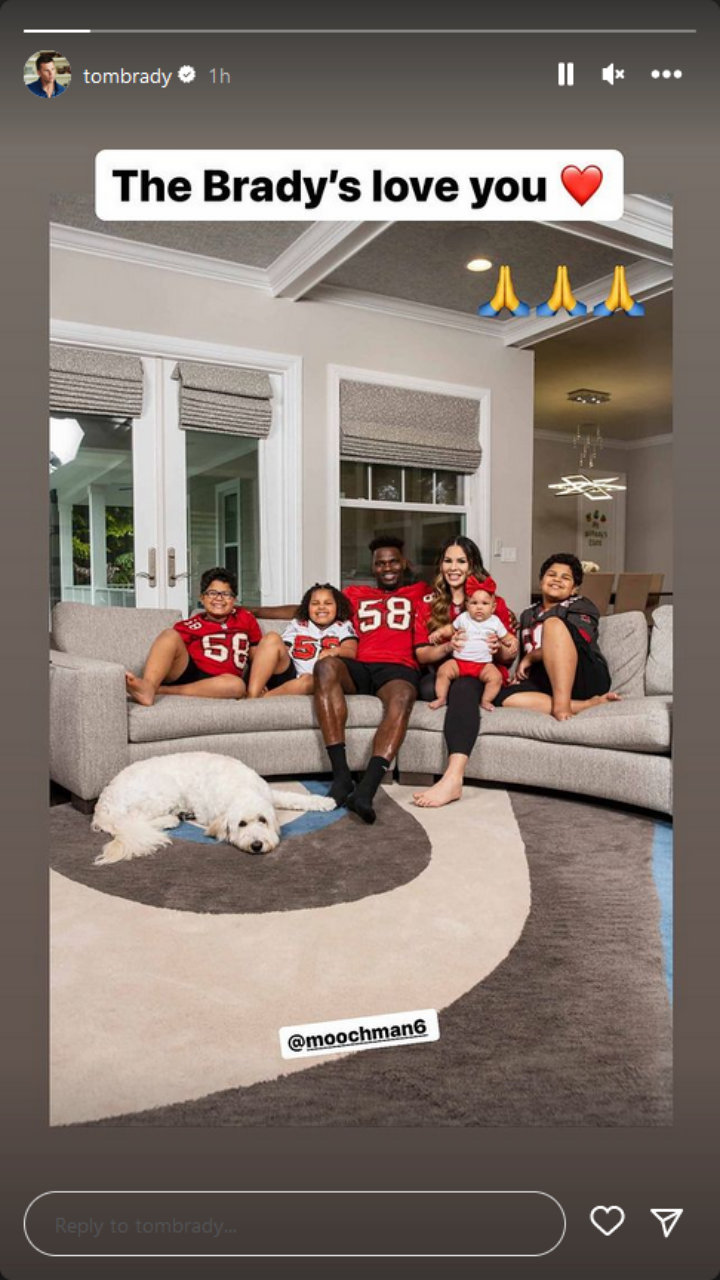 Tom Brady sent his condolences after the tragic death of Shaquil Barrett's daughter.
Arrayah was the youngest of four children in the Barrett family. She just turned 2 years old a few days before the accident. Shaq marked his daughter's birthday by posting a tribute on Instagram last week. "Happy 2nd bday to my cutie girl. So sweet and cute. You made our family complete. I love you baby girl," he wrote along with pictures of the toddler wearing a white shark T-shirt and pink tutu.
You can share this post!
Source: Read Full Article