Britney Spears and Ryan Gosling Just Had a 'Mickey Mouse Club' Reunion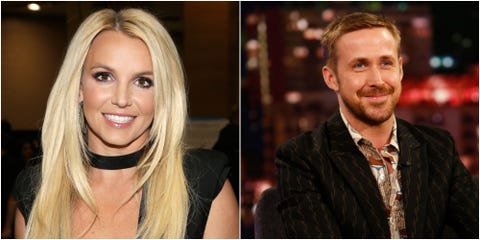 The 1989 revival of The Mickey Mouse Club, officially titled The All-New Mickey Mouse Club, had an insane number of future stars in its cast. Britney Spears, Christina Aguilera, Justin Timberlake, JC Chasez, Keri Russell, and Ryan Gosling were all on the show at teh same time.
Now, decades later, Spears and Gosling reunited backstage at a taping for The Ellen DeGeneres Show. As E! News reports, Gosling told DeGeneres that he couldn't remember the last time he had seen Spears, and that itself is "a sign that it's been quite a while."
View this post on Instagram
Big day on my show tomorrow.
A post shared by Ellen (@theellenshow) on
The two debuted on the variety show in 1993, and Gosling told DeGeneres that Spears and Aguilera made quite an impression on him when he got started.
"I remember when we first got to the show, they sort of had all the kids perform for one another. I remember it was Christina Aguilera and then Britney performed and I remember thinking, Oh, OK, so they're like freakishly talented," he said. "I was used to working with talented people, but that was another level."
In July of this year, Spears also opened up about her experience on MMC, telling Entertainment Tonight, "It was a really good time. It was a great time. It was probably one of the most special times in my life."
And if the show decided to hold a reunion for its 25th anniversary? Spears is in. "I would definitely show up. I would go, definitely," she said.
Until that magical day occurs, relive the '90s nostalgia with the video of the Mickey Mouse Club opening credits, featuring Britney, Christina, Justin, and the whole gang. Hearing Gosling talk before his voice changed is worth it alone.
Source: Read Full Article