Between Chrissy Teigen and Kris Jenner, Which Safely Founder Has a Higher Net Worth?
For Chrissy Teigen's latest business venture, she's teamed up with one of the most famous mothers in reality TV: Kris Jenner. Their new product line is already making headlines even before debuting. Which of the two Safely co-founders has the higher net worth?
Chrissy Teigen befriended Kim Kardashian West years ago
More than a decade ago, Teigen met Jenner's daughter, Kim Kardashian West, on a double date. The model was with then-boyfriend John Legend, while Kardashian West was in a new relationship with Reggie Bush. Years later, Teigen confessed to being "so nervous" about meeting the reality star.
The Cravings founder told her friend in 2016 that she had "been watching" Keeping Up with the Kardashians. "I knew all about you. I felt kind of like a weirdo," she continued. However, a trip to the bathroom fixed all of that. "You had me zip you up," Teigen recalled, thinking, "'Oh my gosh! She has Spanx on. She's cool. She's normal.'"
Teigen and Legend remained close to the family despite politics
Kardashian West and Teigen's friendship continued as both got married (and divorced, and married again, in the former's case). And from prominent award shows to casual Waffle House double dates, Teigen and Legend continued to spend time with Kardashian West and Kanye West.
But the couples' relationship changed in 2018 after West vocalized his support of then-president Donald Trump on social media. Legend texted him, asking him to reconsider projecting these views, and West shared the texts on Twitter.
After all of this went viral, Teigen lightened the mood by exchanging her own tweets with her pal. "are we still doing dinner Friday or no lol," she asked Kardashian West. The KKW founder responded in kind. "Yes but maybe no phones," she joked back.
How did Chrissy Teigen and Kris Jenner become friends?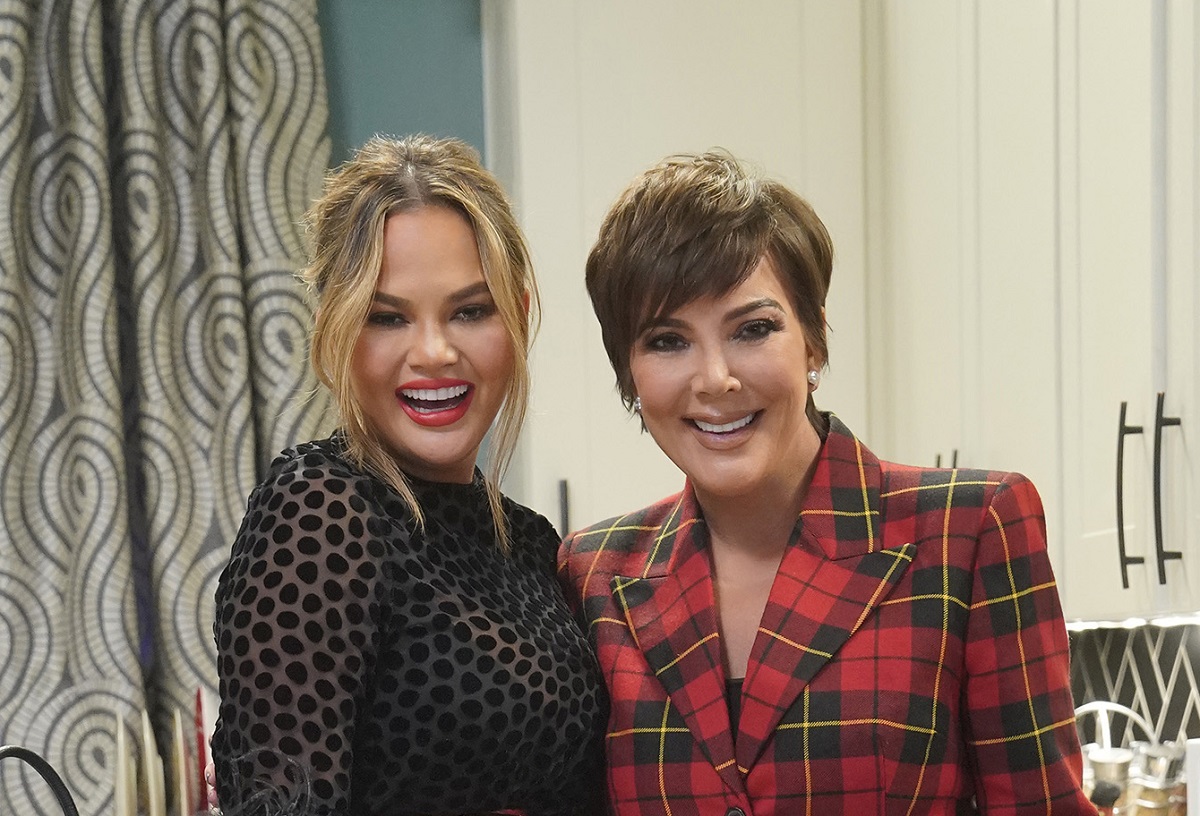 When someone befriends one Kardashian, it's often not long before they're spending time with the lot of them. Teigen's been photographed with several family members and often shows support for them in their various ventures or events.
One of her previous anecdotes about the group's matriarch comes from the same conversation with Kardashian West about their friendship. She's describing why she fought with Legend at the West's wedding, during which the "All of Me" singer performed.
Teigen thought that she and Legend had "ruined the wedding" due to a fight they had. But when he began to play the first dance song for the happy couple, only his wife recalled the episode. "I remember standing with [Jenner] and being so mad at him, and everyone was like, 'He's so amazing, isn't he amazing?' and I was like, 'No!'" Teigen explained (via Bustle).
Teigen and Jenner's new app Safely and net worth difference
While Teigen and Jenner's friendship hasn't been highly publicized, the latter did appear in the former's 2018 holiday special, A Legendary Christmas with John and Chrissy. Now, the two businesswomen have teamed up with their own line of home cleaning and self-care products.
Both Teigen and Jenner will have put their own money into this project. But who is better off, financially speaking? It's not much of a contest. Though Teigen is worth an impressive $75 million (according to Celebrity Net Worth), it's no match for the Kar-Jenner empire. Forbes estimates Jenner is worth around $190 million.
Source: Read Full Article