Arie Luyendyk Jr.'s Wife Lauren Begs for More Prayers as Newborn Daughter 'Needed Oxygen'
In a new video posted on their YouTube channel, the season 22 stars of 'The Bachelor' open up that their baby girl is 'having some trouble with her breathing.'
AceShowbiz –Arie Luyendyk Jr.'s wife Lauren Burnham could not hide her worries over her newborn daughter's condition. Sharing that her little girl has to stay longer in the hospital as she "needed oxygen," the season 22 contestant of "The Bachelor" begged her fans and followers for more prayers.
On Tuesday, June 15, the 29-year-old mom shared on her Instagram Story feeds that she had to wait a little longer to bring her baby daughter home. "Today is so bittersweet… we get to leave the hospital…," she wrote over an adorable clip of her newborn twins resting next to each other. In the following snap, the mother of three could be seen stroking her little girl's hand as she sleeps. She captioned the sweet post, "But little sis has to stay behind for now. I've never felt heartbreak like this. pls say prayers for our girl."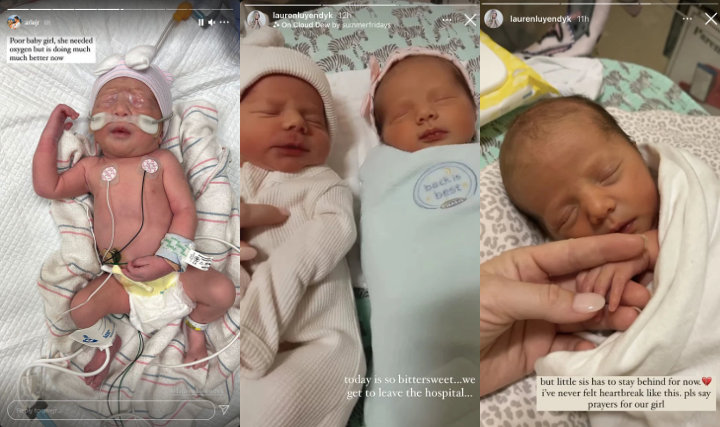 Arie Luyendyk Jr. and wife Lauren Burnham shared update on their newborn twins.
On the next day, her husband Arie gave an update via Instagram Story that their newborn daughter "needed oxygen but is doing much better now." As for their son, the former reality TV star explained that he spent "just a few hours in the NICU." In the next Story, the 39-year-old auto-racing driver uploaded a sweet photo of his twin babies sleeping next to each other with a note that read, "Just a few days later when they were reunited when we visited little sis."
"The Bachelor" stars also posted a new video on their YouTube channel that showed them leaving the hospital. In the nearly 11-minute video, Arie offered more updates on his newborn daughter's condition, which he said made Lauren "pretty upset, obviously." He told the viewers, "She's having some trouble with her breathing. She's not on oxygen."
"She's perfectly healthy. Her development's just a little bit behind, so she gets really relaxed. Her heart rate slows down because of the breathing slowing and that is concerning," Arie elaborated further. "They don't really know if she'll come home tomorrow or the next day or if she needs any more time."
Elsewhere in the Wednesday video, Arie and Lauren showed moments when they came home to their 2-year-old daughter Alessi to introduce their newborn son. They also revealed their baby son's name, Lux. "Alessi is warming up to Mr. Lux," the proud dad said in the adorable clip. "You're such a good big sister already." He went on to tell her eldest daughter, "You're so good with him." He also gushed over the sweet moments, saying, "I'm dying how cute this is."
Source: Read Full Article