All the Details of Eugenie's Second Wedding Dress–Compared to Meghan Markle's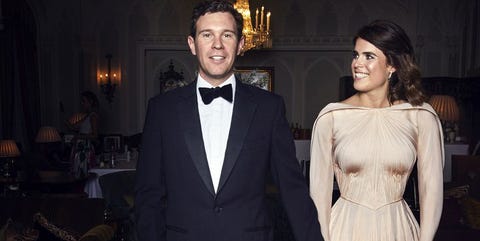 Princess Eugenie and Meghan Markle's weddings–and wedding dresses– had simultaneously much and little in common.
The Duchess of Sussex opted for two completely streamlined, clean, and minimal silhouettes for her ceremony and reception, by Clare Waight Keller for Givenchy and Stella McCartney respectively. And while her Givenchy wedding gown was a departure from the grand ballgown Eugenie wore to wed Jack Brooksbank, their reception dresses were just as dissimilar.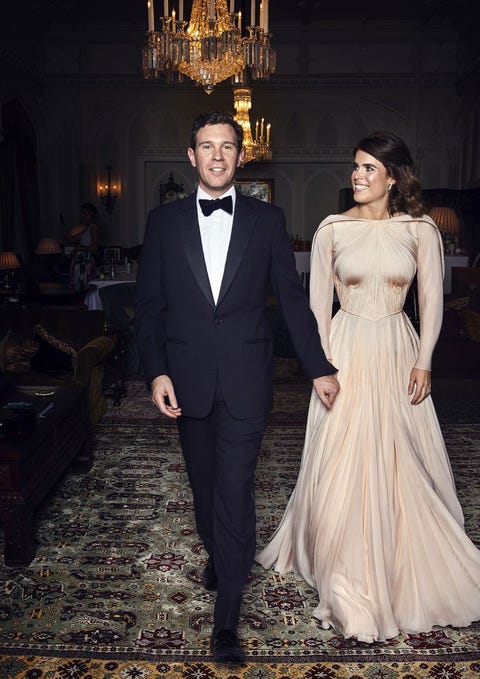 The Duchess of Sussex worked with two British designers for both of her wedding gowns, while Princess Eugenie opted for a gown from an American house, for her wedding reception after choosing Peter Pilotto and Christopher De Vos to work on her ceremony gown. The Princess of York tasked Zac Posen with her second dress, a custom gown in what appears to be a soft shade of blush, rather than bridal white.
While Meghan's second dress designer, Stella McCartney, is best known for her ready-to-wear and eco-conscious design ethos (leading many to think Eugenie would work with her on something for her big day), Posen is best known for luxury eveningwear. McCartney's design aesthetic has a clean, simple feel–which is no doubt what attracted Markle to her work–but formality is not her go-to. Meghan's effortless, California girl style paired well with the ease of her second dress' silhouette, which was all about the cut, and a sexy simplicity without looking over the top or fussy.
Posen on the other hand, is a veritable master of all things fancy. His sculptural silhouettes have graced the world's best red carpets, his work has been compared to that of couturiers, and he is best known for draping, corsetry, and pleating that forms and shapes the body to flatter each and every asset. His gowns nip waists and accentuate curves while being all about fine detail–and Eugenie's gown didn't fall far from his signature style.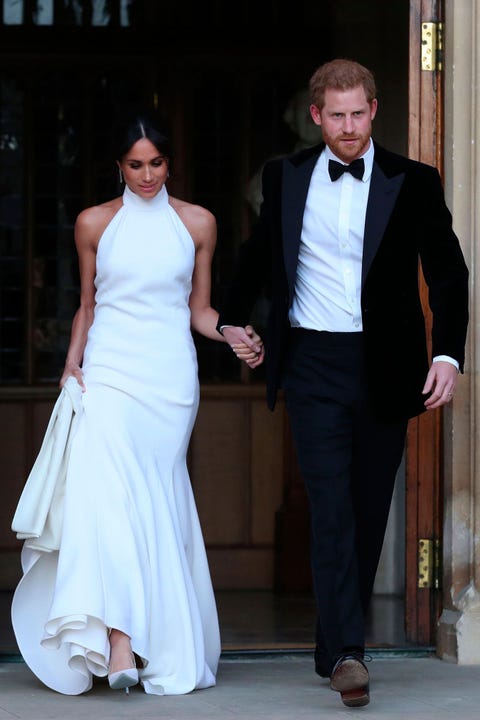 Eugenie's gown, like Meghan's, was neither beaded nor lace, but it was in no way simple. The visual interest abounded–an ethereal chiffon skirt, hand-pleated bodice, strong shoulders, a neckline that hearkened to the folded back detail of her ceremony gown, a subtle basque waistline, long sleeves, and more.
Meghan Markle's second dress was far less intricate and far more body-baring than Eugenie's, showing off her enviable frame and toned arms in a different way than Eugenie's fully covered silhouette. Meghan's second dress called to her ceremony gown only in its simplicity and its shade–Markle opted for a crisp, bright white for her two looks, while Eugenie's gowns were ivory and borderline blush.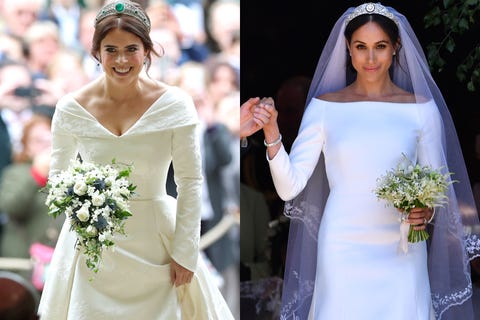 Eugenie's bridal looks were all about intricate detail and subtle fashion risks–like the daring choice to forgo a veil, opt for a not-so-white reception dress, don emeralds for a pop of color, and work with Peter Pilotto on a custom fabric rather than lace or a matte crepe. Her bridal gowns, some would say, were almost a sophisticated, toned down version of the looks we've seen her wear in years past. Meghan, however, likes to keep things sleek and chic, and her reception gown appeared to be the epitome of her personal style.
Between the two royal brides, one thing is certain–each used their second dress as a less fussy, and more adventurous expression of their personal style, while insuring their silhouettes were sophisticated.
Source: Read Full Article