A Rundown of the Most Lavish, Expensive and Meaningful Gifts Kim Kardashian and Kanye West Have Given Each Other
Can you believe it's been five years since Kim Kardashian and Kanye West made it official?
Kimye is celebrating a milestone anniversary on May 24, marking five years since they wed in a lavish $2.8 million ceremony held in Florence, Italy.
While the traditional five-year anniversary gift is "wood," it's safe to say Kim, 38, and Kanye, 41, won't be keeping with tradition if their past gift-giving habits are any indication. Since they first began dating in 2012, the parents-of-four have never been shy about showering each other with lavish gifts and surprise presents, clearly sharing at least one of the same love languages.
Kanye even managed to surprise Kim on their wedding day, as Andrea Bocelli made a surprise appearance to sing as the Keeping Up With the Kardashians star made her way down the aisle.
"I thought I was walking to the aisle to his CD playing," Kim told E! News at the time. "But when I got to the altar, I did a double take and screamed! I couldn't believe he was there himself!"
The sweet surprise was especially meaningful for the KKW Beauty CEO as Bocelli was her late father Robert Kardashian's favorite singer. "It felt like I was walking down the aisle with my dad as [Andrea] sang," she said.
But it was far from the first time the Yeezy designer would surprise his beauty mogul wife.
Heading into their fifth wedding anniversary, the couple already had much to celebrate, as they welcomed their fourth child via surrogate just before Mother's Day, with their son Psalm being welcomed by his older sisters, North West, 5, and Chicago West, 1, and older brother Saint West, 3.
While we wait to see what Kim and Kanye have in store for their big day, let's look back on all of the lavish (So. Many. Floral. Arrangements), expensive ($14 million condo, anyone?) and meaningful (rare treasured signed by their idols) gifts the couple has given each other over the years…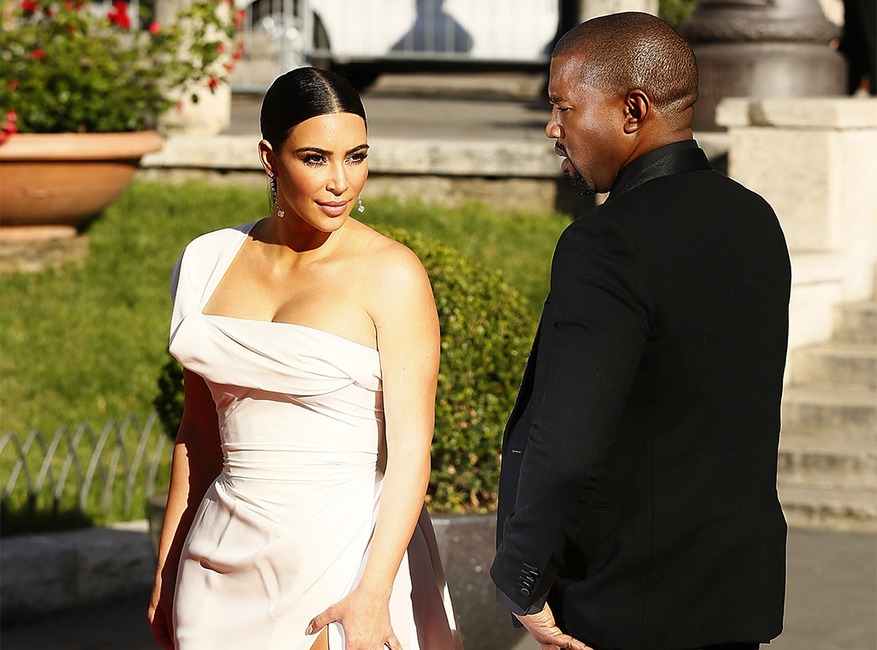 Ernesto Ruscio/Getty Images
Second Wedding Anniversary
To celebrate two years of marriage, the couple took a glam trip back to Florence Italy, where they exchanged vows.
Kim and Kanye went to the opera, attending Giuseppe Verdi's opera La Traviata in Rome, which was directed by Sofia Coppola.
During the trip, Kim took a moment to show some appreciation for her engagement ring on social media.
"My ring shined so bright for our love in Rome while we celebrated our 2 year anniversary in Italy, the country we got married in! #Blessed."
After their trip to Italy, the couple them flew to London for the Vogue 100 Gala Dinner, continuing their super-glam celebration.
"Happy 2 year anniversary to the love of my life," Kim captioned a photo of the couple. "You make me so happy! I love you so much!!!"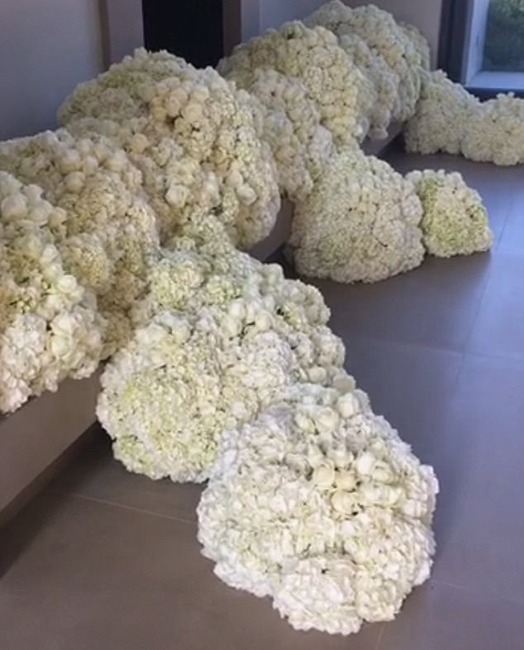 Instagram
Third Wedding Anniversary
If there's on thing Kanye really loves to spoil Kim with its creative arrangements of flowers, and for the couple's third anniversary, he surprised the E! reality star with two giant cloud-like arrangements of white flowers, which she revealed on her Snapchat in 2017.
"I mean, how cute that I get to come home and see these gorgeous floating flowers," she said. "Happy anniversary." The flowers were similar to the lavish displays of white flowers that were prominent among the decor at their weddings three years prior.
She also took to Twitter to celebrate their big day, writing, "HAPPY THREE-YEAR ANNIVERSARY BABE! THANK YOU FOR BEING THE BEST HUSBAND AND FATHER. I LOVE YOU SO MUCH,"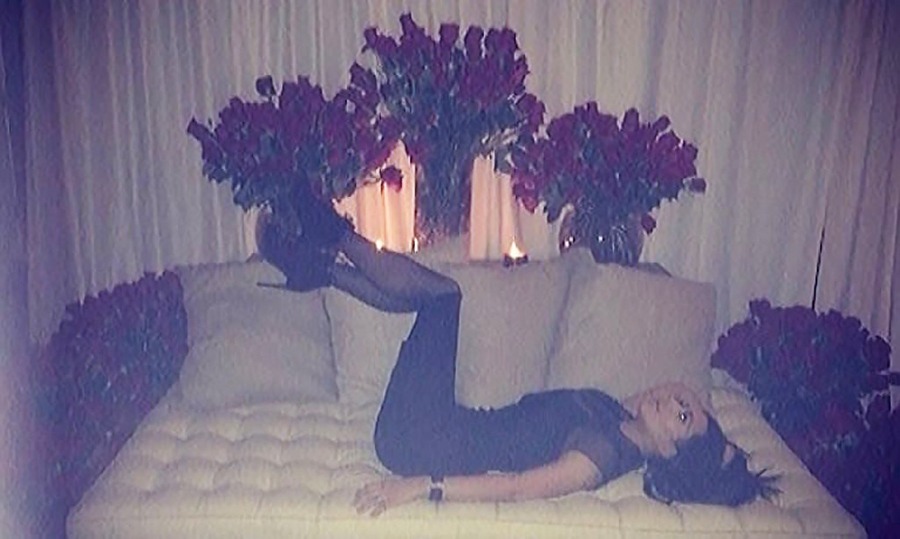 Instagram
Valentine's Day 2014
For their final Valentine's Day as an engaged couple ahead of their wedding, Kanye sent his bride-to-be flowers. But, like, a lot of flowers.
"A thousand roses," Kim captioned a photo of herself in front of the bounty of bouquets, along with a bunch of red rose emoji icons.
Article continues below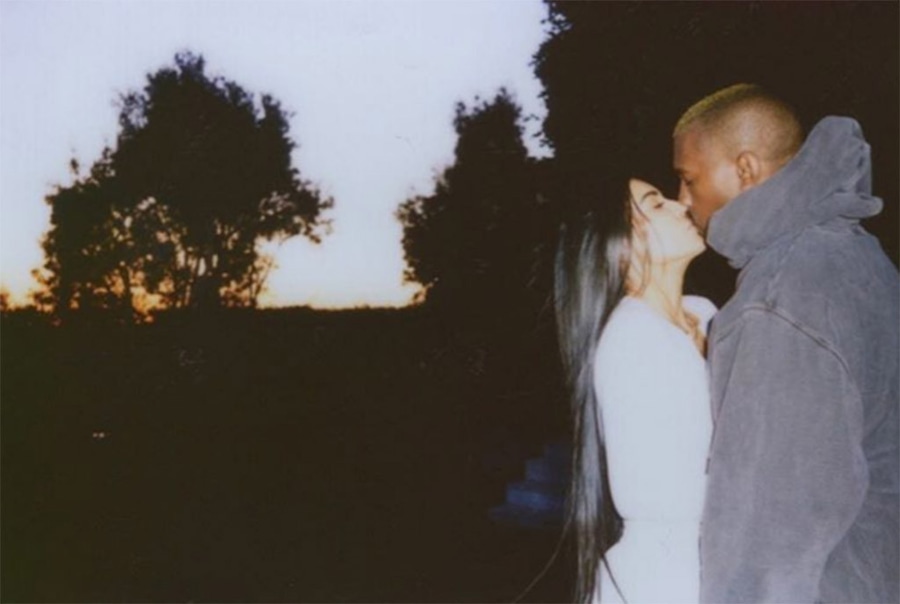 Instagram
Valentine's Day 2017
Even though he was "very occupied" with planning his Yeezy Season 5 line at New York Fashion Week, Kanye made sure to properly celebrate the romantic holiday, with a source telling us he surprised Kim with roses and jewelry.
The couple also enjoyed a "romantic dinner" at one of the couple's favorite spots in NYC, but Kanye had a surprise for his wife before they left for their night—a massive floral wall, a ongoing gift theme for the couple.
On Snapchat, Kim showed off a floor-to-ceiling display of white roses and orchids.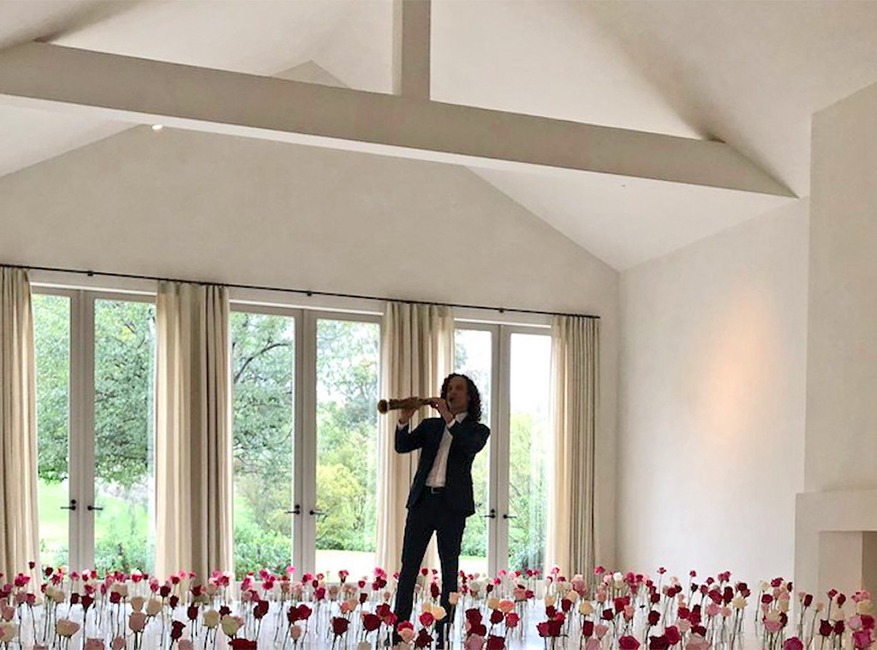 Instagram
Valentine's Day 2019
Perhaps the couple's most unintentionally hilarious gift was when Kanye celebrated V-Day by asking Kenny G to perform a surprise concert for Kim in the couple's living room, with their famous friends Chrissy Teigen, Ellen DeGeneres and James Corden even trolling the moment.
"NO BIG DEAL KENNY G IN MY LIVING ROOM!!!! Happy Valentine's Day," Kim shared on social media as the legendary performer played his instrument in a sea of roses. "Somewhere over the rainbow."
She added, "Best husband award goes to mine!!!! Most thoughtful gifts ever!!!!"
Kenny G, once he was able to get out of the room of roses, spilled on the big surprise, telling Rolling Stone, "She didn't know what to do with herself for a minute."
As for working with Kanye to set the whole thing up, he said, "He could not have been nicer. He was so warm and accommodating. Just chit-chatting about music. It was super cool."
Oh, and he finally answered the biggest mystery: the roses were already set up before he arrived.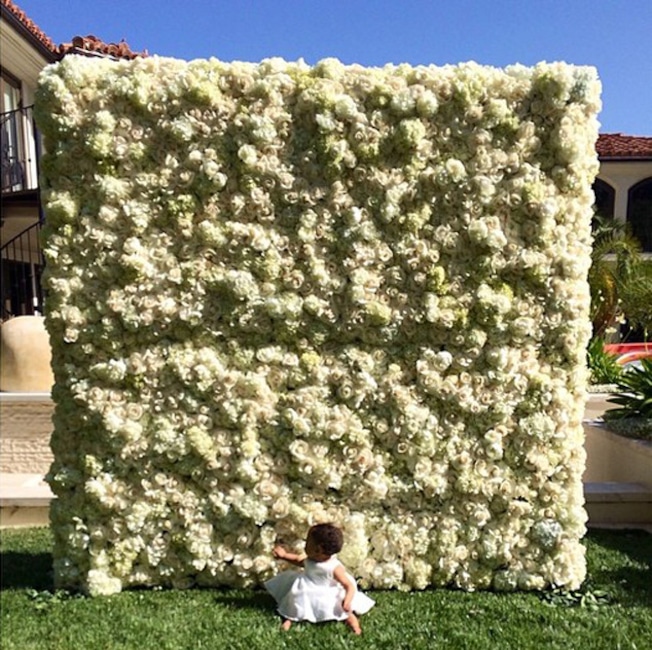 Instagram
Mother's Day 2014
Another holiday, another flower wall.
Kim showed off the massive 3-D arrangement Kanye has gifted her with, which included all-white roses, hydrangeas and peonies.
In the video, a then 11-month-old North is sitting in front of the wall.
"Yeah," Kim responded, encouraging her daughter's baby chatter. "Daddy sent them."
Kanye made sure to give his wife the "Best 1st Mothers Day ever," and managed to spoil his mother-in-law as well.
The couple gifted Kris with a Saint Laurent jacket and Maison Martin Margiela, with the momager gushing over her gifts on Instagram.
"Thank you @kimkardashian @kanyewest," she wrote, "I love you both so much!!! #blessed."
Article continues below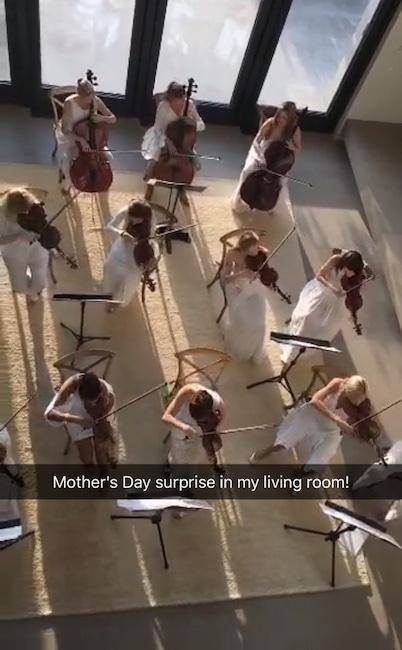 Kim Kardashian / Snapchat
Mother's Day 2016
Just a casual wake-up call: A group of female violinists and cellists performing in your living room, which Kim documented for her followers on Snapchat.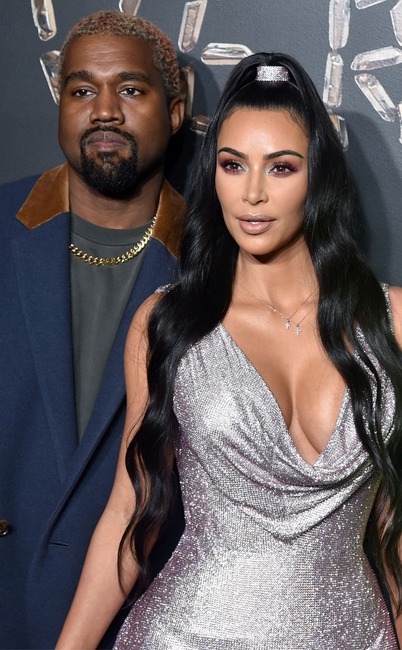 Stephen Lovekin/WWD/Shutterstock
Mother's Day 2018
It's hard to imagine being presented with a $1 million check as extremely romantic, but that's just what it was when Kanye presented his wife with one on Mother's Day, with Kim revealing the sentimental meaning of the check.
"A brand offered me a million dollars to do a post on some of their clothing and they typically—I don't want to say who the brand is—but they typically knock off Yeezy," she explained to Ashley Graham on her podcast, adding that she didn't end up doing the ad, even though it would have netted her a lot of money.
Touched by his wife's loyalty, Kanye used the check as a symbolic representation of his mutual respect: "Mother's Day comes and he happened to be recording out of town and I get my flowers and then I get an envelope delivered to the door," she told Graham. "I opened the envelope and it was a million dollar check with a note saying thank you for always supporting me and not posting."
But he wasn't done.
"And then, in the rest of the envelope, it was a contract to be an owner of Yeezy—to have my percentage. And that was my Mother's Day present."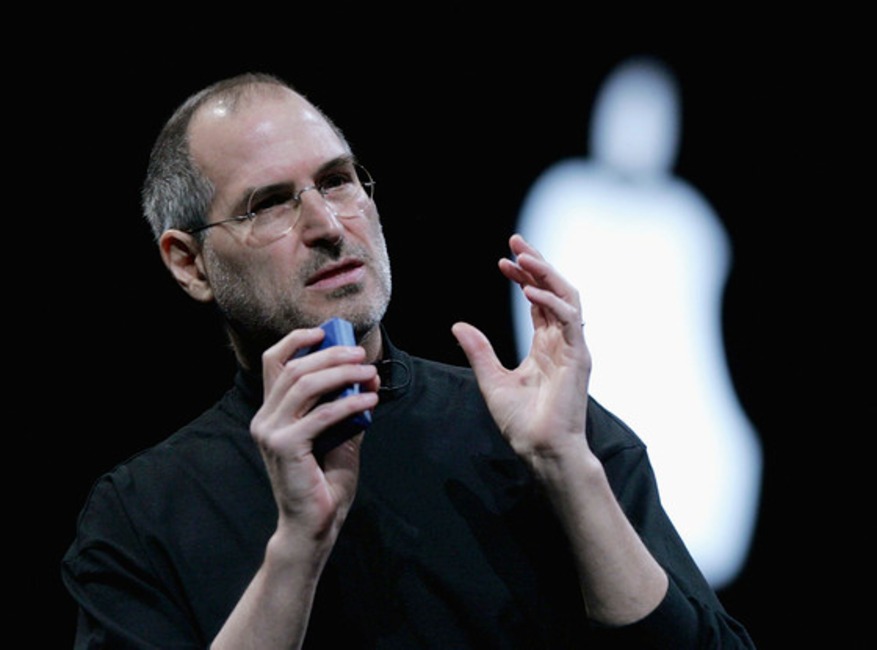 Justin Sullivan/Getty Images
Father's Day 2013
While they first child North was born the day before Father's Day, but Kim still managed to give Kanye a surprising gift.
Kanye tweeted a picture of two vintage Apple computer mice autographed by late Apple founder Steve Jobs and "Woz" (aka Steve Wozniak, the company's co-founder), writing, "one of the other gifts my girl gave me for fathers day."
Ye has been a longtime admirer of Jobs, who died in 2011, and in a 2016 interview with The New York Times he said, "I am undoubtedly, you know, Steve of Internet, downtown, fashion, culture. Period."
Article continues below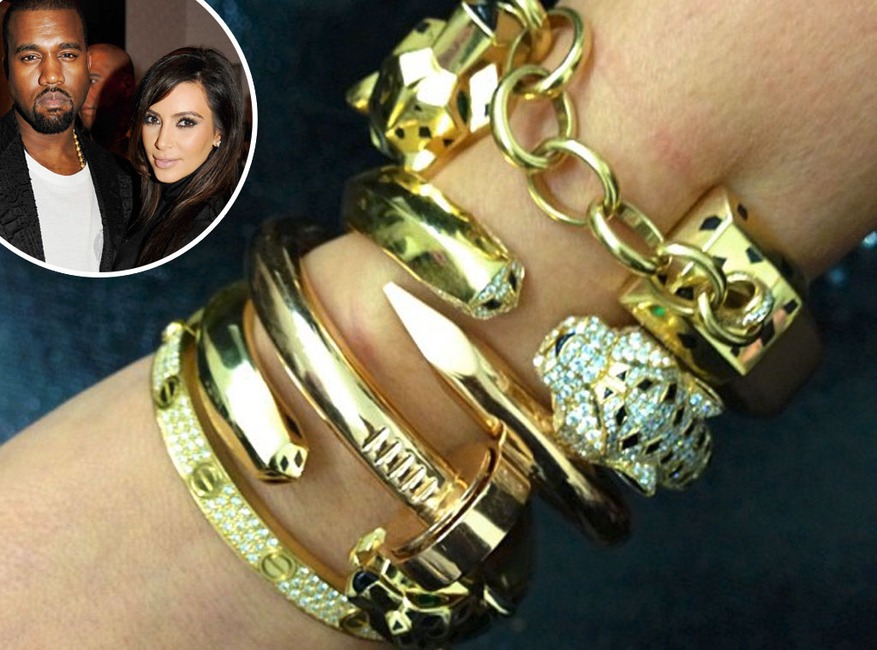 Startraksphoto.com; instagram
Kim's 32nd Birthday
Back in 2012, Kanye dropped $35,000 on a panther-shaped Cartier bracelet, complete with emeralds as its eyes. When she posted about her new birthday bling, Kim simply said, "Rawr."
A few months later, Kanye decided to add to Kim's Cartier collection, gifting her with five glittering gold Cartier bracelets, including a pavé diamond Love bracelet, with a reported total value of $65,000.
"The Don strikes again!!! #SoLucky!!!!!!" captioned the photo of her new arm candy.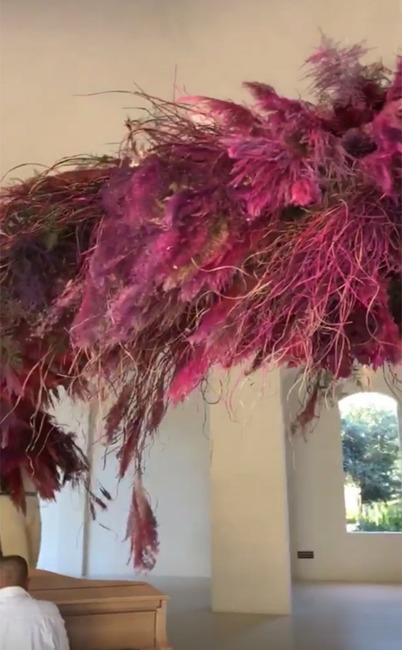 Instagram
Kim's 38th Birthday
It must be getting harder for Kanye to top himself in the floral arrangement department, but he managed to do it again for his wife's big day.
"Kanye's the most creative when it comes to sending me flowers for my birthday!" she wrote of the floating exotic florals she received. "love you so much babe."
In addition to the flowers, Kanye also had a pianist set up and performing for Kim when she woke up that morning. "This is what I wake up to, guys," Kim captioned a video of the musician on her Instagram Stories.
Kanye posted pics of the special moment on Twitter, writing, "You're stunning. I will keep trying to make things that can express how beautiful you are inside and out and how much I love you and our family."
He continued, "I will keep trying to make things that can express how beautiful you are inside and out and how much I love you and our family."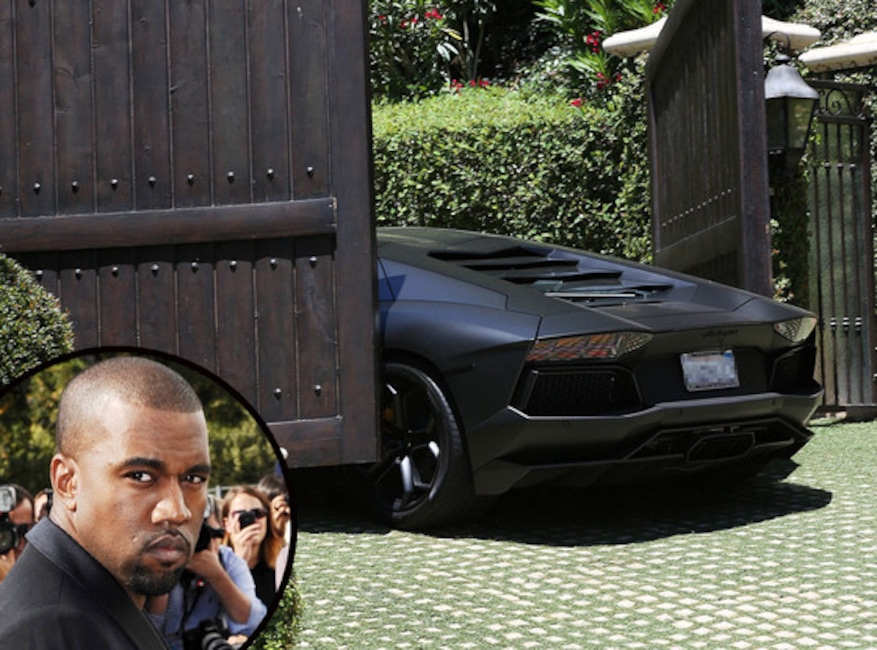 Clint Brewer / Splash News, StarTraks
Kanye's 35th Birthday
"Okay, Lamborghini Mercy (swerve), your chick, she so thirsty (swerve)."
That's the opening line of Kanye's 2012 song "Mercy," and it ended up being the exact hint Kim needed when it came to buying a present for her soon-to-be husband's 35th birthday.
Kim dropped $750,000 on a Lamborghini Aventador LP 700-4. NBD.
Article continues below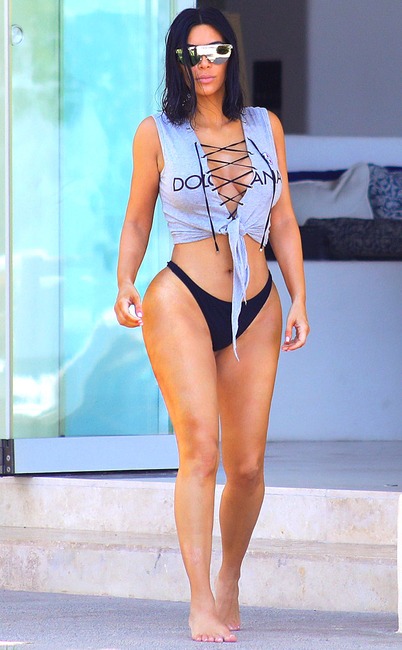 Splash News
Kanye's 40th Birthday
Rather than throw a huge party, Kim and Kanye decided to celebrate his milestone birthday with a family vacation to the Bahamas with their children, North and Saint, in 2017.
For their four-day stay, the fam stayed at Baker's bay Golf and Ocean Club, with goes for $44,000 a night. In total, the weekend likely cost the couple $440,000.
Of course, this being Kimye they weren't done yet: Kim also "rented out an island and had all of Kanye's friends come and their families," according to our source. "They rented 4 planes and everyone left in secrecy and there was so social media rule so no one would find them."
Of the relaxing weekend, another insider added, "It was a fun weekend for the family. Everyone hung out by the pool and the kids played on the beach making sand castles."
"Happy Birthday babe," Kim tweeted on his actual birthday. "I love you so much! You inspire me every day to be a better person! I'm so grateful for you."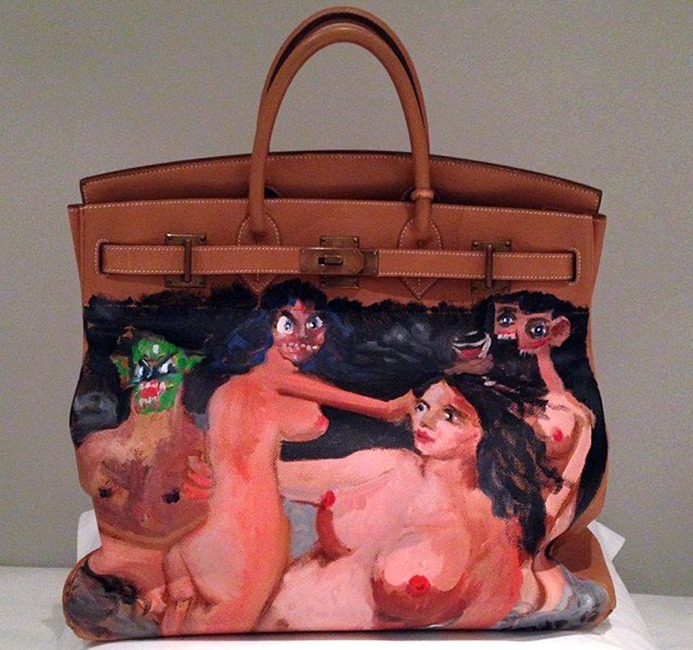 Kim Kardashian/Instagram
Christmas 2013
While a Hermès Birkin Bag is already a super-expensive gift, Kanye took the one he gifted Kim with on Christmas morning to the next level as it was hand-painted by renowned artist George Condo, worth a reported $1.3 million.
The surrealist nude artwork on the pricey bag raised some eyebrows, a reaction Kanye and Condo knew it would illicit.
"Kanye and I both knew immediately that people who knew our collaboration would think it was fun but that Kim's fan base would go berserk," Condo, who had previously designed five different covers for Ye's 2010 album My Beautiful Dark Twisted Fantasy, told W Magazine.
So what was the thought process behind the out-of-the-box gift?
"The whole point was to take an icon of consumerism and change it, which is like blasphemy. 'You can't do this!' It short circuits people's concept of what's untouchable, which is why it was fun to do. If I had just done it and put it in my closet, it wouldn't mean a thing," he said, laughing. "But when you stick that bag in the hands of Kim Kardashian, well, then you create a whole different atmosphere. It's about context."
For Kim's 34th birthday a few years later, Kanye gifted her with another custom Hermès, but this time the original artwork on it was done by an artist they both knew very well: North.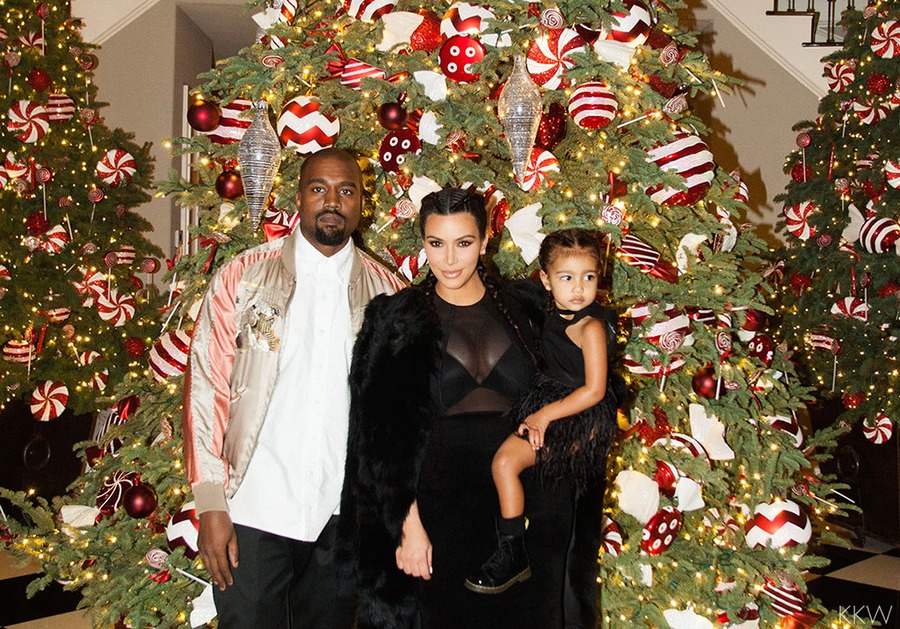 Courtesy of Kim Kardashian
Christmas 2015
Cover your eyes, Dudley Dursley!
Kim clearly made the nice list in 2015, as she was gifted with 150 gifts under her Christmas tree. Some of the presents included a Prada jumpsuit and a Louis Vuitton dress, which Kanye purchased over Skype as he "sent his assistant to Italy and shopped" via his phone.
While Kim was showing off her haul on social media, her mom Kris Jenner said, "You're very spoiled, Kim." Her response?
"I haven't shopped for myself in over six months," Kim reasoned. "And Kanye has to deal with me every day."
Article continues below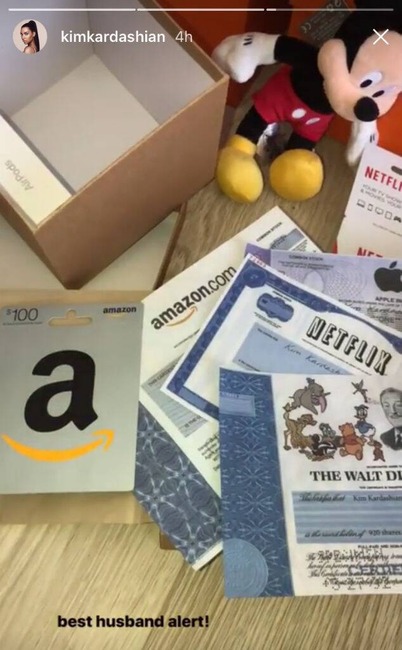 Christmas 2017
"Okay, so for one of my Christmas presents from Kanye, he gives me this little box with a Disney Mickey toy, Apple headphones, Netflix, Amazon gift cards, and Adidas socks," Kim first said of the array of gifts her husband had given her.
Kanye being Kanye, there was so much more to the gifts: the rapper had actually given Kim stock in each of those companies, so she had gifts to enjoy now and later.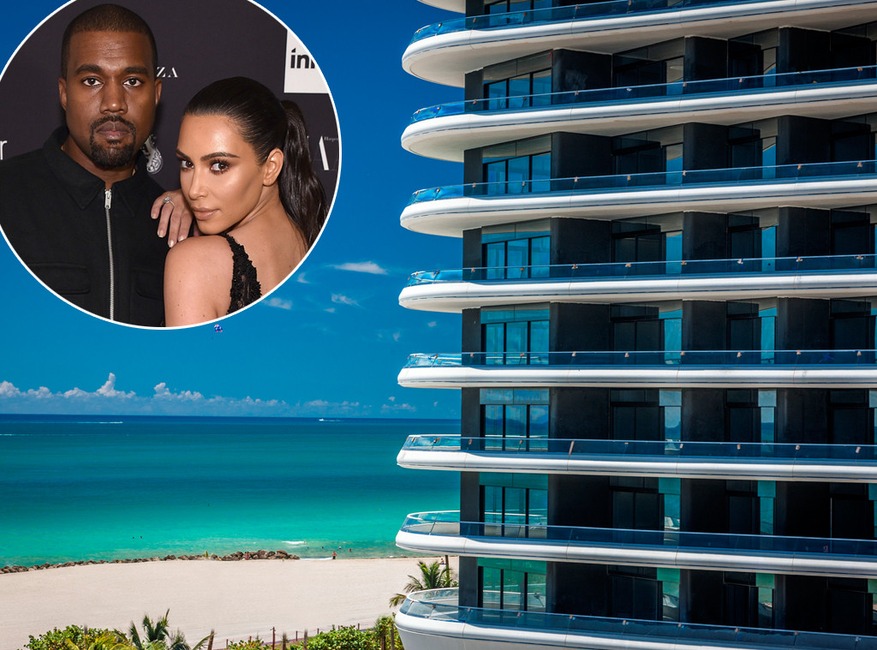 Faena HouseBryan Bedder/Getty Images for Harper's Bazaar
Christmas 2018
Perhaps Kanye's most lavish gift yet? A $14 million condo in Miami for his wife, who had no idea it was coming.
"Kanye completely surprised her for Christmas with the gift," a source tells E! News. "Kim and Kanye did not view the condo together and they have not been looking. She has also never seen the condo."
According to reports, the unit is 4,700 square feet and has four bedrooms and five and a half bathrooms. Their new digs also have a large wraparound terrace.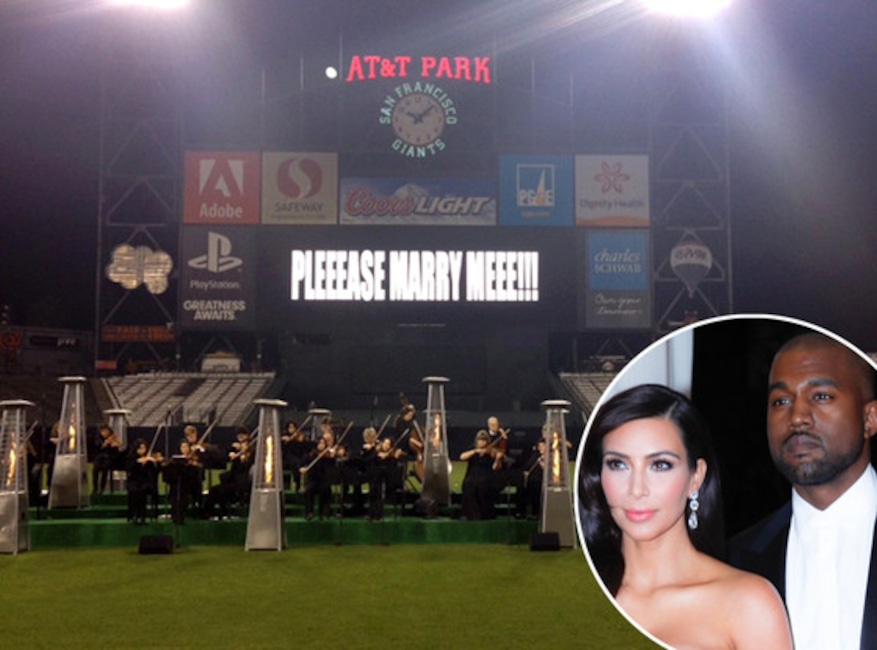 Courtesy of Kris Jenner; Sipa
Engagement 2013
Considering the pricey baubles Kanye had given Kim throughout their relationship, no ordinary ring was going to do when he proposed to her in 2013.
The "Stronger" rapper gave Kim an eye-popping 15-carat diamond engagement ring crafted by legendary jeweler Lorraine Schwartz. The ring's estimated value hovers at around $2.5-$3 million.
And Kanye didn't slack when it came to his actual proposal either, getting private use of AT&T Park from the owner of the San Francisco Giants owner, hiring a 50-person orchestra to assist when he dropped down to one knee. He even had the scoreboard read "PLEEEASE MARRY MEEE!!!"
Article continues below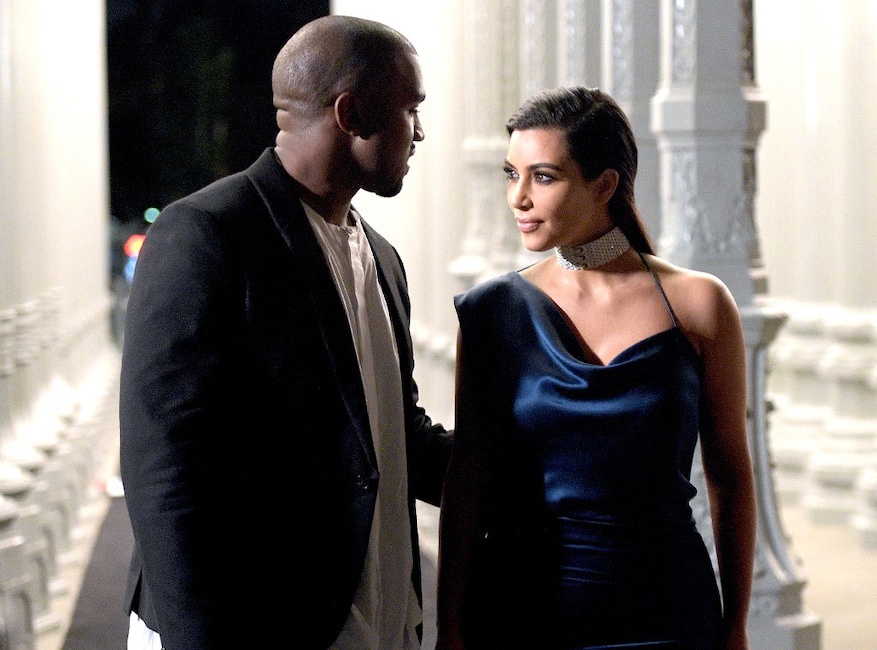 Courtesy Jason Kempin/Getty Images for LACMA
Push Present
"This pregnancy, I would love a Lorraine Schwartz diamond choker, like the ones I've worn before to the Art + Film Gala. Too much? LOL!" -Kim said on her app in November 2015, ahead of Saint's birth.
Well, guess what Kim was spotted wearing a year later? A diamond choker, estimated to be worth $1 million. Kanye clearly keeps up with his wife's app.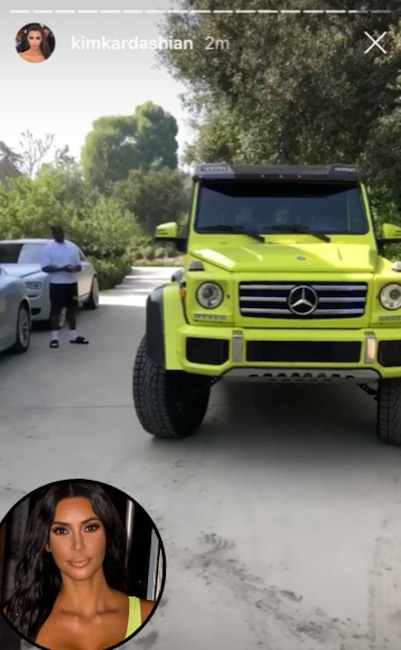 Instagram
Just 'Cause
When the couple attended 2 Chainz and Kesha Ward's wedding in Miami in August 2018, Kim rocked all-neon looks the entire weekend, even matching the Mercedes G550 they rented to her bright green dress and complementary neon wig.
But what happens in Miami doesn't stay in Miami because after returning from the getaway, Kanye surprised his wife with a custom Platinum Group painted neon green G550 4×4 SUV from Mercedes Beverly Hills.
Kim showed off the surprise gift in an Instagram video, saying, "Oh my gosh, I just got out of the gym and was surprised by this new baby. I loved it so much in Miami and kept on talking about it."
As she continued showing off the custom car, Kim said, "I got the truck of my dreams 'cause I was so excited in Miami. I'm so excited."
She isn't the only family member with the sweet ride: Kylie's Mercedes G550 is neon orange, and sister Kourtney gifted Chicago with her own miniature version of mommy's neon green SUV for her first birthday.
"It's Chicago's birthday and look what Kourt pulled up with," Kim said while revealing the gift on Instagram. "This is what Chi gets to match mommy. Oh my gosh, thank you Kourt!"
Source: Read Full Article