A Look Inside Adam Levine And Behati Prinsloo's Stunning House
Where do you live when you're a rock star married to a Victoria's Secret Angel? The beach, of course… or at least close to it. In a video for Architectural Digest, celebrity couple Adam Levine and Behati Prinsloo took fans inside their luxurious home in the Pacific Palisades, the just-off-the-coast neighborhood of Los Angeles.
"Beverly Hills just started to feel hectic," Levine shared with Architectural Digest. "It's strangely central, so we felt surrounded by the city. We wanted to live somewhere quieter, where you don't hear the traffic and feel the stress." Prinsloo added, "The only things we brought were the art and the bonsai trees, which are my other little kids."
Levine owes his massive fortune to his time as the leading man of Maroon 5, as well as his job on "The Voice." Prinsloo, meanwhile, began her claim to fame walking in Victoria's Secret fashion shows. Levine and Prinsloo married in 2014 and have since welcomed two daughters. "We didn't want a palatial McMansion. That's just not who we are," Levine said to Architectural Digest. "We were attracted to this place because it felt homey." So, what's inside the mansion, and which celeb is responsible for the design? The answer might surprise you.
Adam Levine's closet was inspired by Kanye West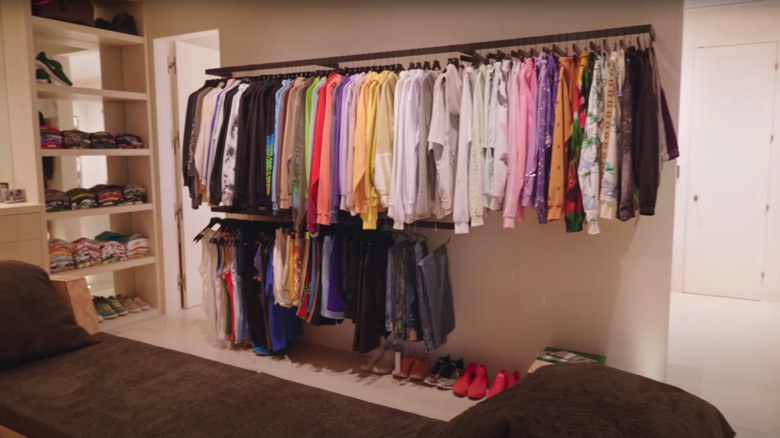 According to Architectural Digest, the Pacific Palisades mansion belonging to singer Adam Levine and model Behati Prinsloo is a "ranch-style" home designed in the late 1930s. When it came time for the Hollywood couple to leave their Beverly Hills abode for the hills of Palisades, it was Levine who stepped in to turn the existing house into a place of their own.
"Adam usually takes the driver's seat in making design decisions," Prinsloo said to the design outlet. "He stays up all night looking at furniture and houses. He should be an interior designer himself." Inside the home, Levine worked with designers Kathleen and Tommy Clements to include low-to-the-ground furniture, as well as a closet inspired by another famous musician.
"The muse for the closet was basically watching the famous David Letterman-Kanye West interview, because I saw Kanye's closet and just started to drool," revealed the former "The Voice" coach in the video tour of his home. The closet includes a wall of sneakers, stacks and stacks of t-shirts, and a Rick Owens day-bed that Levine calls a "superfluous" add, while Prinsloo's own walk-in closet (that could definitely double as a bedroom) houses mementos from her work in high fashion. What may surprise fans, however, are the items the celebrity couple has hidden in a corner of their theatre room.
Adam Levine stores his Grammys with his water bottles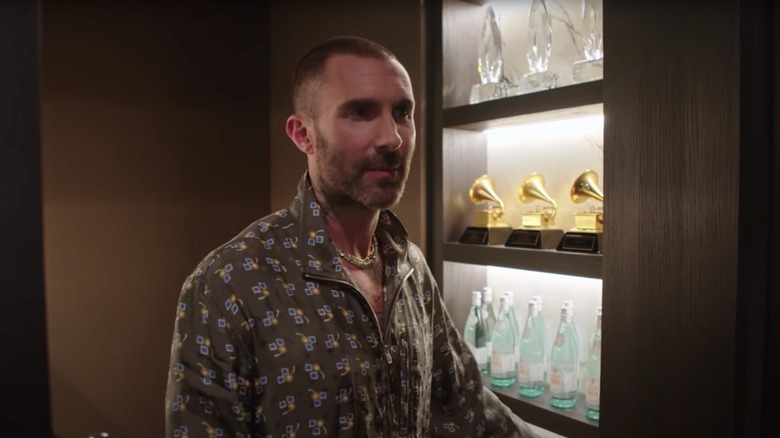 Having 13 Grammy nominations, and three wins might seem like a big deal to the average fan, but for Adam Levine, the wins are just "silly." While giving Architectural Digest a tour of his and Behati Prinsloo's Los Angeles home, Levine revealed that he keeps his awards from the last two decades of his music careers hidden in his theatre room, next to some bottled water.
"I always look at these and [am] really amazed that we have them, but at the same time it's, like, so silly," said Levine of the Grammys that make him feel "nostalgic." The singer continued, "I keep them here so they're not too showy-offy like down in a room that most people don't see all the time because they're just for me."
Aside from the secret Grammys, Levine has his own "makeshift studio" and office where the artist recorded the latest Maroon 5 album, "Jordi," during the 2020 pandemic. "In a world where nothing ever seems to be enough, our home feels like a genuine unicorn, our perfect sanctuary," said Levine, with Prinsloo adding, "It's really all that we need or want."
Source: Read Full Article