Julia Jacklin bares her heart and gains converts
Julia Jacklin
Metro Theatre, March 15
Reviewed by Divya Venkataraman
4 stars
There was no fuss or fanfare at the Metro on Friday night: Julia Jacklin got straight down to business with her brand of melancholy indie dream-pop that sounds like it's been torn from the pages of your diary. Jacklin's second album Crushing was released just a month and a half ago and already has a whole school of new converts.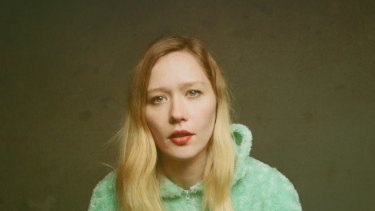 Julia Jacklin
She kicked off with Body, a soulful reclaiming autonomy over her body: "I don't wanna be touched all the time/I raised my body up to be mine".
Gender and politics seep into her work but only to inform her personal experience: there is no danger of Crushing becoming didactic or a #metoo polemic because she's not interested in teaching you.
She comes as she is. Rising over a layer of subdued guitar and steady drumbeats, Jacklin's voice takes centre-stage. The lyricism in lines such as, "He took my hand and said I see a bright future/I'm not sure that you're in it" showed her at her heartbreaking best.
Old favourite Don't Let The Kids Win fits in neatly in a mix of newer tracks, and she follows up with the plaintive Don't Know How to Keep Loving You and Good Guy, an ode to romantics in the age of Tinder.
Jacklin's eyes fixed on a spot in the distance while she sang, and whether or not this was the intended effect, she made you wonder what or who she was thinking of.
Her clear voice shone through in Turn Me Down when she stretched the tension with too-long silences and let her breathy falsetto descend into a powerful, near-operatic force.
An echoing, piano-centric arrangement of When the Family Flies In made the most of a skilful band but otherwise there wasn't a great deal of variation in the instrumental arrangements.
Most of the tonal shifts and boppy numbers – such as You Were Right and the floor-filler Pressure to Party – were stacked towards the end of her set, which got the crowd moving but left the night feeling just a little off balance. But it wasn't a hard crowd to please.
Jacklin played her songs straight: no airs, no showmanship. She just laid out her heart at the audience's feet and they loved her for it.
Source: Read Full Article